So, we are quickly approaching the 2020 August 31st 4pm EST Trade Deadline. Here is the latest about the Yankees:
SS Francisco Lindor:
Ken Rosenthal put out an article in which he says the Yankees are targeting 6 players this trade deadline including being 100% after lifetime Yankees fan Francisco Lindor after extension talks broke down with the Indians.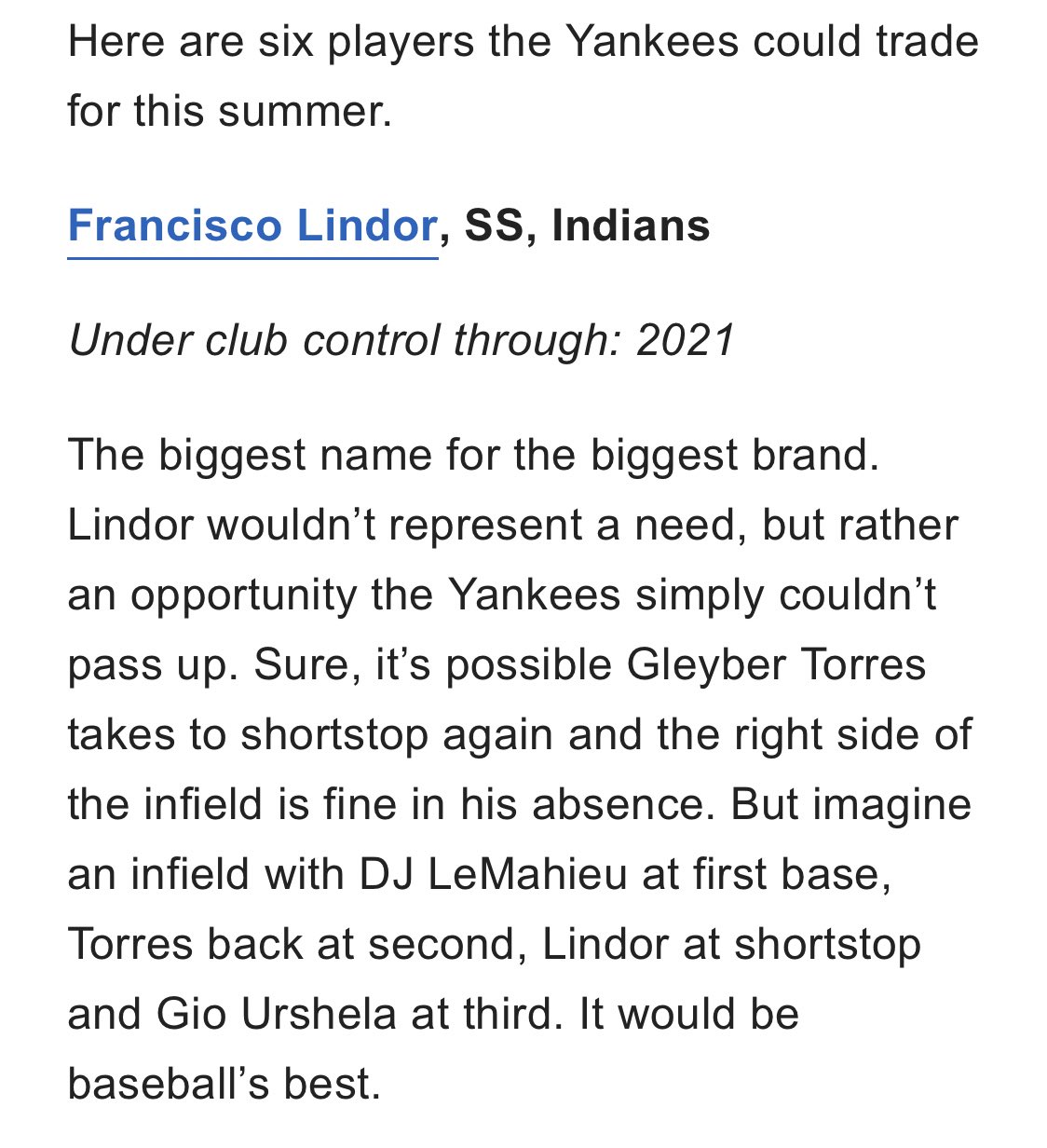 After this paragraph Rosenthal said the Indians and Yankees are already talking. He suggest a trade package lie this:

Yankees get: SS Francisco Lindor, LHP Brad Hand
Indians get: INF Thairo Estrada, OF Everson Pereira, RHP Deivi Garcia
A fair package both ways. I would do this and Rosenthal believes it will happen. Rosenthal guaranteed the Yankees giving him an extension almost instantly. He guessed 10 years $250 Million.
LHP Robbie Ray:
In Ken Rosenthal's article of players the Yankees should go after he has Lindor and then LHP Robbie Ray. A pitcher the Yankees have been after for years now and who is set to be a FA.
He states the Yankees are already in contact with the D-Backs who are not competing at all. Ray is struggling this year so it shouldn't take much to get him. Here's Rosenthal's predicted package:
Yankees get: LHP Robbie Ray, RHP Archie Bradley
D-Backs get: RHP Luis Cessa, LHP J.A. Happ, and RHP Albert Abreu
Again fair both ways. I know the Yankees are after him so lets see what happens here. A contract extension would be likely.
LHP Josh Hader:
The 3rd player from Rosenthal's article I will talk about is LHP Josh Hader who the Yankees want very bad!
He's the last on from the article I will mention as the other 3 are reclamation projects that make no sense.
Rosenthal said the Brewers made contact with the Yankees once Andujar was sent down and they are talking about a package centered around Andujar.
Remember the Brewers are struggling to compete right now and would love to trade Josh Hader before he gets to expensive!
Rosenthal suggests this trade:
Yankees get: LHP Josh Hader
Brewers get: INF/OF/DH Miguel Andujar, RHP Miguel Yajure, OF Brett Gardner, OF Trey Amburgey RHP Johnathan Holder
Josh Hader is easily worth that much.
I don't know if Gardner is actually going to be in such a deal or if he would accept such a trade but the Brewers need a replacement CF fast after Cain succumbed to Libtard Dem pressure and opted out.
I WOULD BE STUNNED if these 3 trades don't happen even if the packages are a bit different. They just make to much sense.
OF Giancarlo Stanton for OF Bryce Harper trade UPDATE:
I have not heard ANYTHING new sense just before noon EST yesterday. My sources have gone completely silent there. The last thing they told me was emphatically insisting the trade is happening.
This can be a sign the trade is near done and they are to busy to leak info.
I will pay attention to the Phillies lineup the next 2 days. Today does not hold as much merit as tomorrow though.
I will also keep an eye on the Phillies lineup even after announced tomorrow to see if Harper gets scratched.
Here's the exact names I was told would be in the package before my sources when completely silent:
Yankees get: OF Bryce Harper, RHP Hector Nares
Phillies get: OF/DH Giancarlo Stanton, RHP Jonathan Losisiha, RHP Domingo German, and RHP Ben Heller.
A great trade all around. As the Phillies could turn around and flip Stanton to the Dodgers for OF Joc Pederson and more pitching or get the Dodgers in on a 3 team trade where Stanton goes directly to the Dodgers.
Remember OF Joc Pederson continues to put up very similar power #'s to Bryce Harper.
I will say my confidence in this trade actually happening is down to 50% due to inconsistencies in what my sources told me.
HOWEVER… The facts still fit way to perfectly.
Here's the inconsistencies in the Stanton IL situation:
He left the game without any sign of a injury.
He left on his own without a trainer.
Stanton flew out of Tampa a day before the Yankees did and by himself. he did not fly to NY. This part is still cloudy
The Yankees IL'd Stanton before any tests were done which no team ever does. Very, VERY bizarre…
The Yankee scheduled the MRI for 2 days AFTER the injury which again is NEVER DONE! They always do it same day. Again so very, VERY bizarre!
The Yankees gave a 3-4 week recovery time for a injury that takes 10 days MAX to get back from. DJ got back in 5 days, Judge in 7, and Stanton himself in 10 days form the same injury within the last 2 years. Stanton even played through a Grade 2 Strain of the same muscle 2 years ago for 3 months while launching 38 HR's and 100 RBI's that season.
The Yankees are far to silent in Stanton's potential walk year (we all know he's not opting out! HAHA) when we knew all along the plan was to trade him to the Dodgers or elsewhere this year. The Dodgers do have a OF spot opening up this upcoming offseason and this new universal DH rule makes him 100% a Dodgers target. Stanton will do everything possible to get the chance to play for his hometown Dodgers as well.
Something is very off about the Stanton situation! It has to be pointing directly towards a trade.
Something else of note is Harper is disgruntled with Girardi big time. He can't stand Girardi according to what I have been told and a few reports.
Also… He's has always, always wanted to be a Yankee. It was believed the day he signed the deal with the Phillies he would get traded to the Yankees at some point.
STAY ALERT HERE!
Other notes:
Word around the game is Cashman is checking in anything and everything right now. He's even checked with the Reds about Bauer, The Rangers about Minor, ETC.
All long shots right now at best!
He's working hard right now. Stay patient as moves will happen. He's near agreements multiple trades I have been told.
As for LHP Aroldis Chapman, He is throwing a simulated game today and if all goes well will be back with the Yankees tomorrow.
Jim Bowden today wrote an article where he labeled 6 players slow starts anything but flukes and signs of major trouble.
Both OF Brett Gardner and LHP J.A. Happ were on his list. He said they were both old and washed up and looked it.
Bowden also said this about both:
"Its time for the Yankees to DFA or trade both ASAP and move on."
I 100% agree! This must happen for the good of the Yankees!
Andy Martino just released an article in which he stated after talking with Yankees 2B DJ LeMahieu and his agent he would be STUNNED if he does not agree to and sign an extension during the private negotiating period the week before FA.
Martino also stated the Yankees will do everything possible to keep DJ LeMahieu long term.
This is the exact same thing I was told 3 months ago. Let me make this clear: DJ LEMAHIEU ISN'T GOING ANYWHERE!
That's all I have for now! More updates will be out as I get them!
BY: ADAM KING