So several minutes ago a weird tweet went out fro John Heyman stating the Yankees had agreed to a deal with ACE RHP Trevor Bauer and then was deleted it within a minute.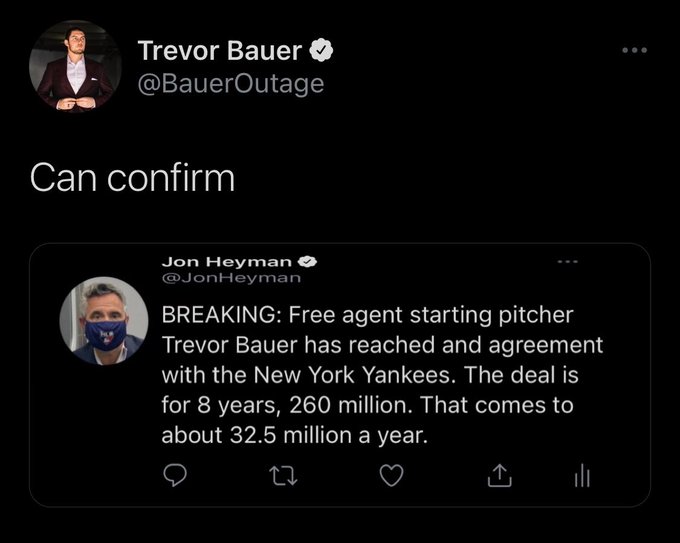 I have no clue why. Bauer retweeting it seems fake as it never showed on his twitter page and his agent Rachel Luba who told me she will post his move 1st never tweeted a thing. Here's the tweet(s) again: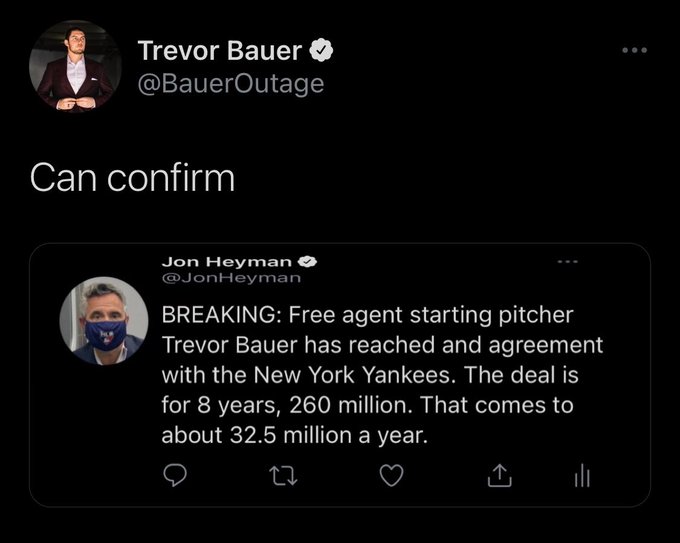 I could only find 1, ONE 8 year $260 Million contract in baseball history and it was contract extension not FREE AGENT DEAL! Nolen Arenado's to be exact.
Makes this all the more weird…
I personally think this is a photo shopped hoax. But the tweet was on Jon Heyman's twitter for about a minute.
Also we now have this confirmed tweet from BAUER HIMSELF:
YES HE IS WEARING YANKEES GEAR! VERY, VERY weird for a free agent to do! He's basically guaranteeing his free agent destination! The Yankees. So confused right now…
Literally everything is pointing towards a RHP Trevor Bauer and New York Yankees marriage. I do not know entirely what to think right now.
Lets stay patience as something is 100% going on here!
BY: ADAM KING