In an article this morning NJ.com made their post lockout FA predictions. Some are spot on yet others are completely brain dead. Lets take a look!
Here's their article:
Correa and Rizzo, I'll take that

MLB rumors: Predicting post-lockout signings | Carlos Correa or Freddie Freeman to Yankees? https://t.co/T68VHGnkdZ

— Bobby Milone (@BobbyMilone29) December 17, 2021
Their 1st prediction is: Carlos Correa to the Yankees. 
Yikes…. All I can say is a major, MAJOR YIKES! How many times do we have to say the Yankees are never going to even approach his $350 Million+ price tag? NJ should know betgter then this! I have no clue where he will end up but the Cubs of all teams are the current Favorites.
2nd they predict: Freeman Stays with the Braves
This one is spot on BUT… Who can't see this coming though? He was never leaving EXCEPT a very slight maybe to his return hometown of LA and the Dodgers! He'll in the end stay with the Beaves.
Next they predict: Trevor Story signs with the Dodgers
WHY????? The Dodgers already have Turner and Lux and thus no middle infield spots available. There's a reason they haven't even tried for him to this point. I see Story to the Yankees ALL THE WAY! Best friends with DJ LeMahieu, oppo power, half the cost OR LESS then Correa, etc. Also this: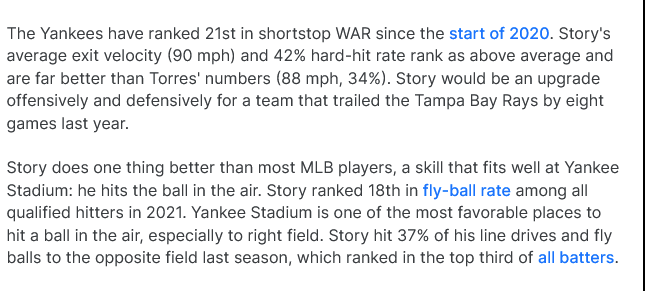 Next they have: Kris Bryant to the Mariners
Brain dead prediction. Both Ken Rosenthal and Jeff Passan both said the M's are about done searching for a 3B and they most likely are not even getting one and completely failed here. Also Bryant ACCORIDNG TO BOTH is down to the Phillies, Nats, and Cubs as well. Never count the Cubs out here!
Next they have: Nick Castellanos to the Padres
NOT HAPPENING PERIOD! He wants to return home to Miami or as close as possible to it. The Cubs, Braves, Nats, Phillies, and Marlins are the only teams in on him thus far. This prediction makes it feel like NJ has no sources and does no research at all! I feel he signs with the Marlins. My educated guess! Don't count out the Cubs here though.
Then they predict: Clayton Kershaw stays with the Dodgers
Ok so this is a OK prediction. Its Dodgers or Rangers only for Kershaw unless the Yankees somehow come calling which I do not see period! I still believe he ends up with the Rangers but after the Dodgers lost Scherzer and Seager anything is possible with the Dodgers.
Then they predicted: Anthony Rizzo stays with the Yankees
NAILED IT! They mention the Olson trade could change this but I do not actually see Olson traded. There's a reason Rizzo is silently, and patiently waiting his FA out. He knows the Yankees will come calling at some point. I have believed this was coming all along. So does the whole industry. Cubs have a slight chance to get Rizzo back but I still believe he reups with the Yankees.
Next they have: Carlos Rodon to the Giants
Another completely brain dead prediction. Rodon said himself he wants to stay in the north east. He will not even consider going west. AGAIN DOES NJ DO ANY RESEARCH AT ALL? I think he ends up with the Yankees myself but the Phillies, Nats, Pirates, and Braves all expected to pursue him. NOT THE GIANTS!!!
Then they have a very funny one in: Kyle Schwarber to the Phillies
THIS ONE IS ALREAYD DONE! As funny as it is the Phillies and Schwarber have agreed already and will finalize AFTER the lockout ends. I was told this weeks ago by a baseball insider! I was told by him: "Schwarber has a deal with the Phillies to be finalized then announced after the lockout!" We'll see what happens but this one is very funny none the less.
Finally they have the worst of all: Seiya Suzuki to the Giants
Let me be clear! THIS IS NEVER HAPPENING PERIOD! He wants to be a Yankee and the Yankees are all over him! I met a Yankees scout at a Salt Lake Bees game right before the Yankees traded Jabari Blash for .for a Minor Leaguer a few years back. I grabbed his info which he was happy to do and he's been one of my tier 3(A person that works for a franchise and is in the know but not a decision maker) sources. He told me a few days ago the Yankees have been all over Suzuki for 3 years now. Remember the Yankees have the best international scouting team in the business! I firmly believe he'll be a Yankee. I still don't get why NJ.com is predicting he goes to a team thats not even talking to him…
Summery:
Again does NJ.COM do any research at all? Almost all of these are pure guesses and brain dead ones at that!
BY: ADAM KING