What Yankees Players have things to prove this year? Lets take a look at 10 Yankees players with something to prove this season and some MAJOR things to prove.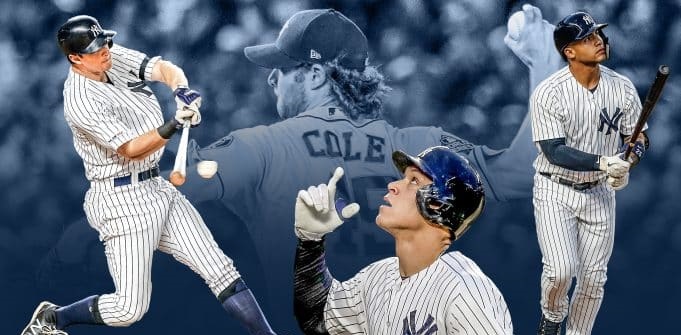 Lets start with the star and Captain of the Yankees in:
Aaron Judge: Thus far he has dealt with several weird injuries the last few years BUT has played over 100 games in 3 strait seasons thus proving he can be a great longevity full season player. What does he need to prove? Well for one that he can avoid these injuries. Then play a full season of 150+ games. Lets push for this fellow Yankees fans!
Gerrett Cole: He needs to prove he can handle playing in NY. In EVERY aspect. He's doing that already despite a fluke outing in ST due to a 50+ MPH wind in his face.
Brett Gardner: He needs to prove he can still play despite his age and very quickly declining defensive ability. I don't think he can and in fact during ST he's doing the exact opposite. His foot speed is noticeably slower. He's not getting near fly balls and line drives he used to. He's also not hitting at all.
Giancarlo Stanton: Another Yankee that needs to prove he can stay healthy for a full season again. He will be back at some point in EARLY April I have been told. Can he play in even 140+ games? He needs to prove this while hitting. In his defense some of his injuries are blatantly flukes! You try avoiding a 96 MPH fastball directly at your face!
Gary Sanchez: He needs to prove he can stay healthy which hasn't been as hard as Judge or Stanton but near as hard. Sanchez has played 100+ games twice during his 4 year career. He needs to prove longevity throughout this season while also proving he can hit 40+ HR's while batting .265+…
Gio Urshella: Last year he played in 132 games his most by far. Can he push this to 140+ this year? Can he prove his 2019 was no fluke? Lots to prove for this kid but I know literally every Yankees fan is pulling for him. Can he prove to be no fluke?
Luke Voit: He's going into a key season for his career. First he needs to prove he can play 150+ games without getting hurt. 2nd he needs to prove he can be that .280+ BA 30+ HR 100+ RBI 1B the Yankees have desperately needed sense Mark Tiexiera retired. I guess before as Tex's last few years were below that. Luke Voit has a ton to prove here.
Mike Ford: Lets start by making it clear that FORD IS 100% BREAKING CAMP WITH THE YANKEES! That's a 100% lock! Now what Big Mike has to prove he can handle a full MLB season while controlling the strike zone and really hitting the whole time. Ford projects over a 150+ game season WITH THE YANKEES to hit .300 with 37 HR's, 123 RBI's. So impressive. Will he get that many games and the 550+ AB's needed for this? Time will tell…
Jonathan Holder: The biggest thing for this kid is to prove he has his stuff back and can be that promising bullpen arm he showed he can be a few years back. He has shown flashes of this in ST. He seems fixed. He now needs to prove it.
Estevan Florial: Another player going into a key season. He has so much to prove. Almost to much. He's raking for the 2nd strait ST. Florial's showing a ton but needs to at least force his way to AAA THIS YEAR! Can he do it? He has so much promise but has yet to live up to it…
I know there are many, MANY other Yankees Players that have things to prove but these are the main ones to me. The Yankees are the best team in the game by a wide a margin BUT… they still need their players to prove what they are and can be just like any team.
BY: ADAM KING