Remember last year when I PERFECTLY PREDICTED the 1st 6 picks of the draft being this:
QB Joe Burrow
DE Chase Young
CB Jeff Okudah
G Andrew Thomas
QB Tua Tagovailoa
QB Justin Herbert
Well we are seeing the signs for me to be able to do this yet again. Here is what we know about this year's 1st 6 picks. I have been checking out mock drafts, draft notes, everything leaking out from teams etc. all morning today and most of Yesterday. Here's a leading one.
Remember every April info starts leaking out from teams and several picks get known. This has been happening for 2 weeks now.
Here's the absolute latest from what is known as of right now:
#1 pick by the Jaguars:
We know for a fact this will be Trevor Lawrence. The Jags are not messing this chance up for anything!
#2 Pick by the NY Jets:
Again we know for a fact the pick here! It is 100% BYU's Zack Wilson. Its a lock.
#3 Pick by the 49ers:
We know for a fact they traded up to get a QB. Its believed to be Mac Jones of Bama. Yes that would make Bama hit 2 straight years having  QB go top 5. Justin Fields is also a belief here but I am unsure based of what I have heard. It will be a QB and I believe Mac Jones.
#4 Pick by the Falcons:
They are known to be looking at 3 things here. 1. Drafting Matt Ryan's successor at QB. 2. TE Kyle Pitts. Which one though? and 3. trading the pick to a QB needy team. There's equal mock drafts saying any of these could happen. I am going to predict they do go with a QB and Trey Lance here. It makes to much sense to me.
Other rumblings and beliefs have the Dolphins could trade up for this pick to get Pitts but just as many expect the Falcons will take the QB and let Pitts fall to the Dolphins.
4. Dolphins (via Falcons): TE Kyle Pitts
6. Falcons (via Dolphins): QB Trey lance
10. Patriots (via Cowboys): QB Justin Fields
12. Eagles: CB Patrick Surtain II
29. Packers: WR Rashod Bateman@MelKiperESPN's latest two-round mock draft is up. https://t.co/eNmtttxQ9s

— Field Yates (@FieldYates) April 13, 2021
I am not sure I buy this one as the Falcons are not showing any sign they'll trade the pick. However even Mel Kiper also thinks the Dolphins will trade up to get Pitts: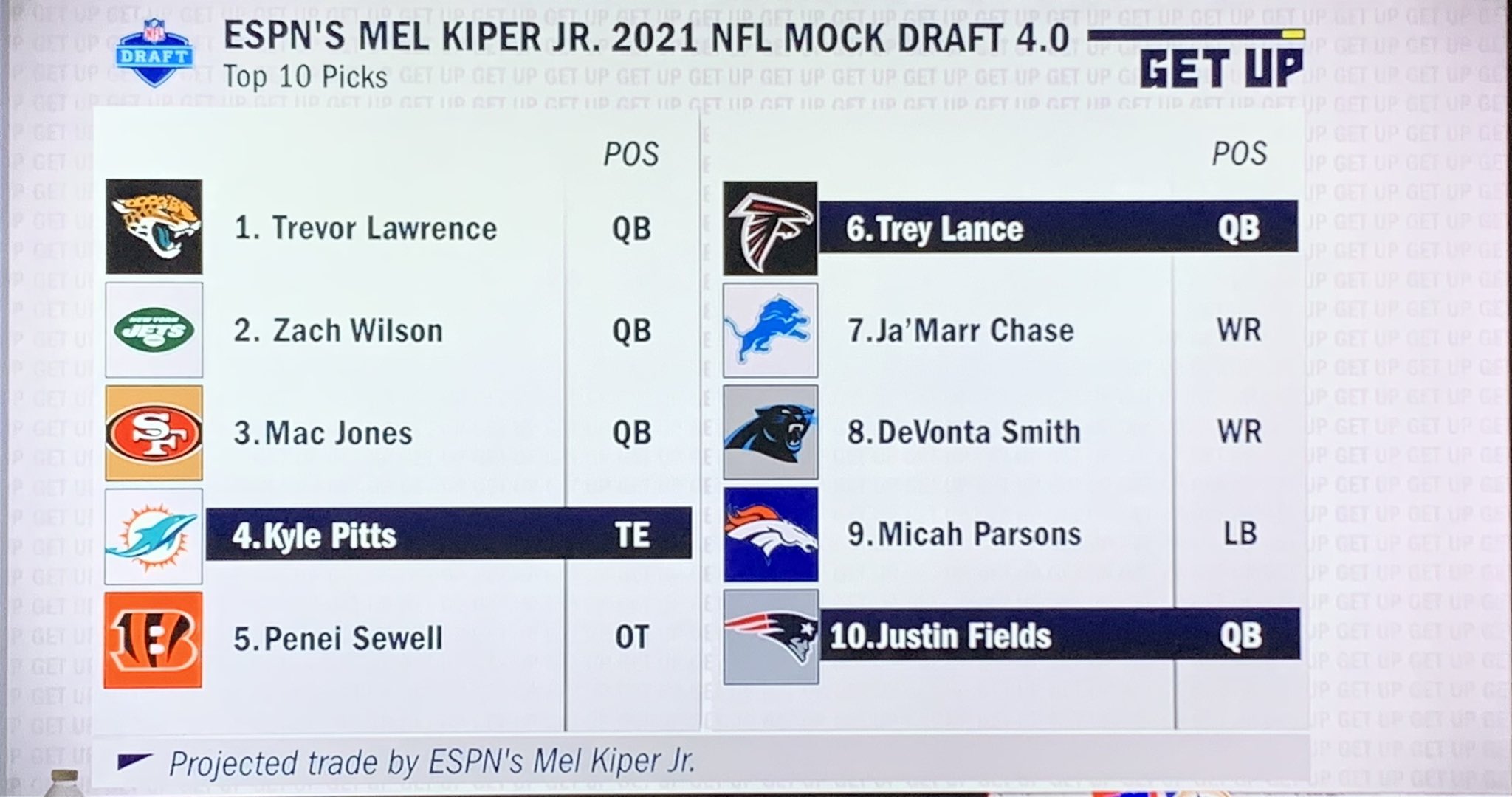 Remains to be seen but I as other draft experts and Dolphins reporters do not see it. We believe Pitts will be there at 6 for the Dolphins.
Keep in mind this is identical to last year's rumblings of the Dolphins allegedly at the time trading up to make sure they got Tua. Proved a blatant bluff last year so I believe it will again.
Also its now confirmed QB needy teams are after the 4th pick:
From NFL Now: Who could trade up for a QB in the NFL Draft? The #Broncos and the #Patriots are among the top contenders. pic.twitter.com/M1VpfUqASl

— Ian Rapoport (@RapSheet) April 9, 2021
As such I see a QB (Trey Lance) 100% going 4th and Pitts falling to 6th and the Dolphins.
If a team does trade up for this pick then it is Justin Fields.
#5 Pick by the Bengals:
We know for a fact they are all over 6'1″ WR Ja'Marr Chase. 3 different Bengals reporters reported this yesterday. Here's the take by a national football reporter who proved as accurate as they come last year accurately projecting 27 picks a year ago:
The Bengals watched every snap Joe Burrow had at LSU. While watching film they also witnessed how explosive LSU's offense was with players like Thaddeus Moss and Ja'Marr Chase. It appears the team is trying to recreate that in Cincinnati. #Bengals

— Tyler Dragon (@TheTylerDragon) April 12, 2021
Chase is 100% going to the Bengals at 5.
More proof of this is the Bengals just claimed Thaddeus Moss off Waivers. The Bengals plan is in full motion!
and…
The #6 Pick by the Miami Dolphins:
If this goes as I have predicted, the 6'6″ freak athlete, WR/TE Kyle Pitts is the Dolphins man. Reports have the Dolphins all over him.
If the Falcons shock everyone and take Pitts then 6'4″ WR Devonta Smith is 100% the pick here.
Some will say what about Jaylen Waddle or Penei Sewell here BUT… Their pro days have made most teams run. Their measurements were terrible (Sewell had 33″ arms when the NFL average is 35″) and such cementing the Dolphins elsewhere.
The Dolphins can take Pitts/Smith here and then grab the real best O-Lineman in the draft Brady Christensen (36″ arms and allowed just 1 QB pressure and ZERO SACKS his last 2 years in college and is also 6'6.8″ and 310 Pounds.) ln the 2nd round.
The Dolphins have been eyeing Pitts and Smith all offseason due to explosive catching ability, etc.
As I mentioned before, its more likely then the Falcons draft a QB or trade the 4th pick to a team looking for a QB and Pitts falls here. I cannot rule this out though I am not expecting the trade there.
That all being said, I am actually predicting 6'6″ WR/TE Kyle Pitts to the Dolphins here at #6. The Dolphins have been talking to him at length.
Literally all signs point to Kyle Pitts being the Dolphins target as others have said!
"All signs point to Kyle Pitts being the Dolphins guy."

(Via PFF ) pic.twitter.com/b8CzF0yHYW

— Dolphin Nation (@Dolphin_Nation) April 4, 2021
I don't think they need to move up to 4 to get him either. Pitts is the pick at 6 and will be there from what I can tell.
Bonus Pick:
7th overall Pick by the Lions: 
6'4″ WR Devonta Smith out of Bama. The Lions love him and are doing everything to set up the pick. This is of course if everything goes as predicted and the Dolphins get their man in Pitts. I do see that happening and thus the Lions will get Devonta Smith..
Going to be a blast but can the draft just get here already?
Finally I won't g any further then this as once you get past the 1st 6 or 7 picks its a mystery as we learned last year when the Panthers passed on the guy every one expected them to take. I can say Sewell is most likely to go to the Panthers at 8 but am not projecting it.
Be patience and watch and have fun!
BY: ADAM KING